Turkey's HRC exports down 34.8 percent in January-November
In November last year, Turkey's total hot rolled coil (HRC) exports declined by 34.8 percent to 71,116 metric tons compared to October and were down 54.0 percent year on year, according to the data provided by the Turkish Statistical Institute (TUIK). These exports had a value of $47.98 million, down by 35.3 percent month on month and by 68.9 percent compared to the same month of 2021.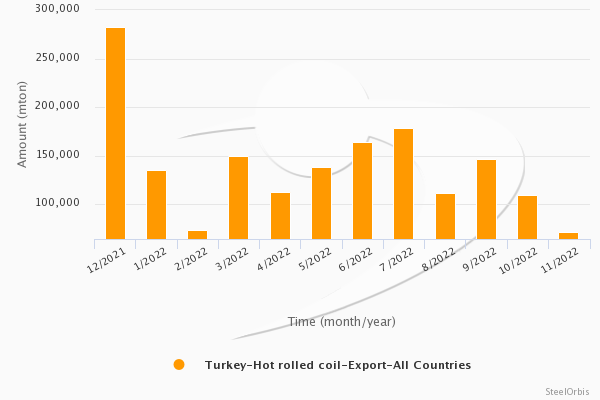 In the January-November period of last year, Turkey's HRC exports amounted to 1.38 million mt, down 34.8 percent, while the value of these exports dropped by 34.8 percent to $1.23 billion, both compared to the same period of 2021.
In the given period, Italy ranked first among Turkey's HRC export destinations, with its HRC imports from Turkey amounting to 280,937 mt, followed by Egypt which received 223,839 mt of HRC from Turkey in the given period.
Turkey's top HRC export destinations in the first 11 months of last year are as follows:
| | | | | | | |
| --- | --- | --- | --- | --- | --- | --- |
| Country | Amount (mt) |   |   |   |   |   |
|   | January-November 2022 | January-November 2021 | Y-o-y change (%) | November 2022 | November 2021 | Y-o-y change (%) |
| Italy | 280,937 | 576,379 | -51.26 | 16,843 | 49,694 | -66.11 |
| Egypt | 223,839 | 62,775 | 256.57 | 4,599 | 12,086 | -61.95 |
| Bulgaria | 118,698 | 47,231 | 151.31 | – | 2,348 | – |
| Greece | 106,354 | 84,863 | 25.32 | 3,624 | 5,092 | -28.83 |
| Tunisia | 80,204 | 64,891 | 23.60 | – | 5,277 | – |
| Algeria | 73,306 | 33,642 | 117.90 | – | 2,857 | – |
| Belgium | 61,666 | 160,952 | -61.69 | 13,786 | 23,605 | -41.60 |
| Albania | 51,790 | 17,498 | 195.98 | 5,611 | 2,775 | 102.20 |
| Lebanon | 46,641 | 7,213 | 546.62 | 8,127 | 703 | 1056.05 |
| Morocco | 43,733 | 23,361 | 87.21 | 313 | 4,497 | -93.04 |
Turkey's main HRC export destinations in January-November are as follows: