Dismal show by archers in Turkey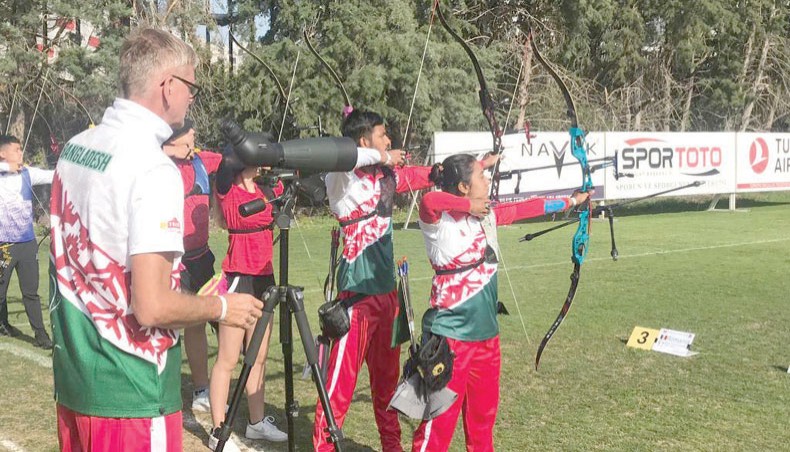 Bangladesh archers' completed a disastrous campaign in the 2022 Hyundai Archery World Cup Stage-1 after their dismal show in the recurve men's and women's individual events of the competition held in Antalya, Turkey on Friday.
Sagor Islam was the only Bangladeshi archer to reach the pre-quarter-finals of the recurve men's individual event while country's top archer Ruman Shana and Hakim Ahmed Rubel were eliminated from the second round of the elimination stage.
Sagor lost to Kozhokar Ivan of Ukraine 6-2 in the pre-quarter-final after consecutive identical 7-1 margin win against Salsabilla Riau of Indonesia and Morocco's El Boussouni Omar in the second and first rounds respectively.  
Shana beat James Woodgate of Great Britain 6-0 in the first round before losing the second round to Turkey's Maras Efe Gurkan by 6-5 in tie-breaker while Rube lost to Italy's Nespoli Mauro      1-7 in the second round after a 6-2 win against Croatia's Cerni Lovro in the first round.
All the three female archers Diya Siddique, Akter Nasrin and Famida Sultana Nisha finished their journey in the first round of the elimination stage.
Diya lost to Slovenia's Umer Ana 4-6, Nasrin lost to Peng Chia-Mao of Chinese Taipei 0-6 and Nisha lost to Adiceom Audrey of France 5-6 in the tie-breaker of their respective first round games.
Earlier, Bangladesh mixed recurve team – Diya and Sagor – lost to Pend Chia-Mao and Tang Chih-Chun pair of Chinese Taipei by 6-0 points in the second round of the event.
The recurve men's team — Sagor, Rubel, Shana — ended up in the first round losing their game to Croatian team — Cerni Lovro, Remar Alen, Sulik Leo — by 5-1 points while recurve women's team — Diya, Nasrin, Nisha lost to Italy team — Andreoli Tatiana, Boari Lucilla, Hervat Karen — by 6-2 points in the second round.
In the compound men's events, Mohammad Ashikuzzaman lost to Fullerton Mathias of Denmark 142-147 in the second round following his 145-140 win against Hungary's Orosz Viktor in the first round.