China appears to simulate first aircraft carrier strike on Taiwan | CNN


CNN
 — 

For the first time, the Chinese navy appears to have simulated strikes by aircraft carrier-based warplanes on Taiwan, as drills around the island wrapped up on their third day.
Beijing launched the drills on Saturday, a day after Taiwan's President Tsai Ing-wen returned from a 10-day visit to Central America and the United States where she met US House Speaker Kevin McCarthy.
Taiwan's Ministry of Defense reported on Monday that during the past 24 hours four J-15 fighter jets had crossed into the southeastern portion of the island's air defense identification zone – a self-declared buffer that extends beyond the island's airspace.
The J-15 is the version of J-11 twin-jet fighter that was developed for use on Beijing's growing fleet of aircraft carriers.
A CNN review of Taiwan Defense Ministry records shows it to be the first time the J-15s have crossed into Taiwan's air defense identification zone.
Meanwhile, the Japan Joint Chiefs of Staff confirmed in a press release that Japanese forces had observed 80 fixed-wing aircraft take-offs and landings during the Chinese exercises from the Chinese aircraft carrier Shandong, which was in the Pacific Ocean east of Taiwan and about 230 kilometers (143 miles) south of the Japanese island of Miyako in Okinawa prefecture.
Japan scrambled Air Self-Defense Force fighter jets in response, the Joint Chiefs said.
The J-15 flights were among 35 People's Liberation Army (PLA) aircraft that had either crossed the median line of the Taiwan Strait or entered the islands air defense identification zon in the 24 hours ending at 6 a.m. Taiwan time on Monday, according to the island's Defense Ministry.
It also said 11 PLA Navy vessels were in the waters around Taiwan, without specifying their distances from the island.
Chinese state broadcaster CCTV reported on Monday that the Eastern Theater Command of the PLA was continuing military drills around Taiwan as part of its Operation Joint Sword that began two days earlier.
Monday's drills focused on practicing "maritime blockades" and "targeted ambush assaults on enemy mooring vessels" in the Taiwan Strait, as well as northwest, southwest and waters east of Taiwan, CCTV reported.
Over the weekend, multiple PLA services had carried out "simulated joint precision strikes on key targets on Taiwan Island" and in the surrounding waters, CCTV reported.
It said in a statement later it had completed the military exercises and "comprehensively tested joint combat capabilities of its integrated military forces under actual combat situation."
"Forces in the command is ready for combat at all times, and will resolutely destroy any type of 'Taiwan independence' separatist or foreign interference attempts," the statement added.
China's ruling Communist Party claims the self-governing democracy of Taiwan as its territory despite never having ruled it, and has spent decades trying to isolate it diplomatically. It has not ruled out using force to take control of the island.
Analyst Carl Schuster, a former director of operations at the US Pacific Command's Joint Intelligence Center, said the PLA was "practicing and probably refining the aerial coordination and joint operations required to initiate a blockade of Taiwan's ports and air lanes."
A Chinese blockade of Taiwan could choke off supplies coming into the island, including any military aid or other shipments from the United States or its partners.
The US, through the Taiwan Relations Act, is legally obligated to provide Taiwan with defensive weaponry, but it remains deliberately vague on whether it would defend Taiwan in the event of an attempted Chinese attack.
Beijing had repeatedly warned against Tsai's meeting with McCarthy and threatened to take "strong and resolute measures" if it went ahead.
After the drills commenced, Beijing described them as "a serious warning against the Taiwan separatist forces' collusion with external forces, and a necessary move to defend national sovereignty and territorial integrity."
Taiwan Defense Ministry spokesperson Sun Li-fang said the PLA's exercises had "destabilized" the region.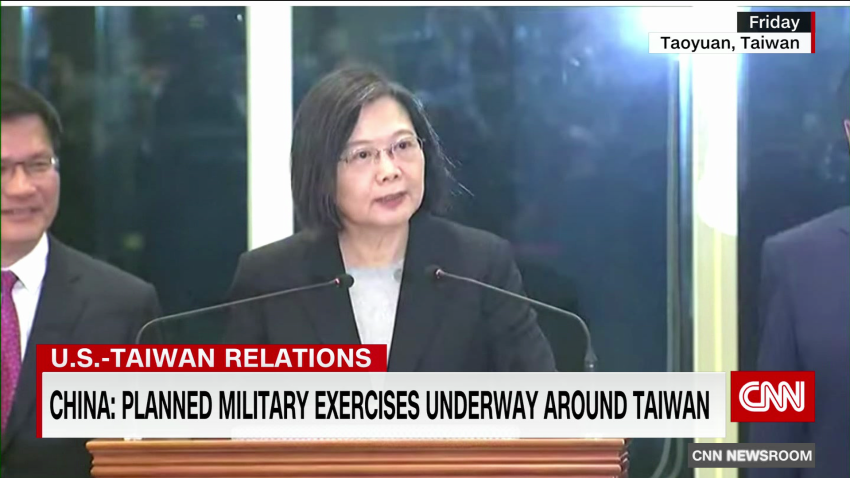 Taiwan's president meets with U.S. lawmakers
"President Tsai's visit became their excuse to conduct exercises and their actions have severely jeopardized the security of the surrounding region," he said, adding that the island's air defense units were on "high alert."
Beijing conducted similar large-scale military exercises around Taiwan last August, after then US House Speaker Nancy Pelosi visited the island.
Those exercises included Chinese missile launches over the island, something that has not been seen so far in the current drills.
But Schuster said this weekend's exercises "are simply extensions and expansions from the August exercise."
"The tactical complexity is greater than last year's, but operationally this exercise seems simpler," he said.
And the Communist Party's message remains constant, Schuster said.
"As is always the case with PLA exercises in the Taiwan Strait and South China Sea areas, Beijing is telling the US, regional countries, Taiwan and its own people, that the PLA has the capability to conduct blockade and joint air and missile strikes on targets in and around Taiwan," he said.