Ukraine accuses NATO's Turkey over stolen grain before Lavrov visit
Kyiv's ambassador to Ankara has accused Turkey of buying grain that Russia had stolen from Ukraine during the war.
The comments by Vasyl Bodnar on Friday come after Moscow announced that Russian foreign minister, Sergey Lavrov, would soon visit Turkey, which is a member of NATO.
Bodnar said that he had asked Turkish authorities and Interpol for information about the shipments, according to Reuters. Newsweek has contacted the Turkish and Russian foreign ministries for comment.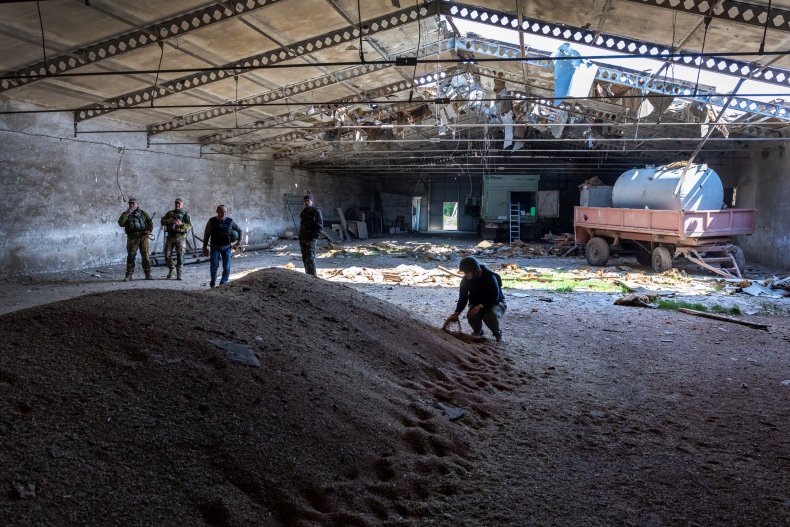 Meanwhile, Russian foreign ministry spokeswoman Maria Zakharova announced on Friday that Lavrov would meet his Turkish counterpart Mevlut Cavusoglu on June 8 in Ankara to discuss "primarily the situation in Ukraine" as well as "prospects for stepping up bilateral cooperation."
Turkey is a key player in the Ukraine war. President Tayyip Erdogan has criticized Russia's invasion and has supplied Kyiv with unmanned Bayraktar TB2 combat drones and other weapons.
However, he also opposes the NATO aspirations of Finland and Sweden, whose membership requires the backing of all the alliance members.
Meanwhile, Ukraine has repeatedly accused Russia of stealing large quantities of grain since the start of President Vladimir Putin's full-scale invasion, which entered its 100th day on Friday.
This week, Ukraine's first deputy minister of Agrarian Policy and Food, Taras Vysotskyi, said that Russia had stolen almost half a million tonnes of grain that had been illegally exported from the country.
He said there was evidence that the grain had been taken from "all the temporarily occupied regions," including Kherson, Zaporizhia, Luhansk, Donetsk, and Kharkiv. The grain was shipped either to Russia via the east of Ukraine, or through Crimea, which Russia seized in 2014, he said, according to Ukrainian news outlet Ukrinform.
Vysotskyi said Russia has unsuccessfully tried to sell the stolen grain in Egypt and Lebanon and expressed concerns that Moscow would try to seize Ukraine's upcoming harvest of winter crops.
Last month, CNN reported that the Russian merchant ship Matros Pozynich loaded with grain stolen in Ukraine had arrived in the Syrian port of Latakia after being turned away from at least one Mediterranean port.
CNN said that satellite images and tracking data showed the vessel had left the port of Sevastopol and gone to the Egyptian port of Alexandria via the Bosphorus, before the shipment was turned away.
It comes amid a Russian blockade of Ukraine's Black Sea ports which has raised fears that millions of tonnes of grain will remain stranded, sparking a global hunger crisis.
Ukraine's foreign ministry spokesman Oleg Nikolenko said on Thursday that Kyiv was working to create a United Nations-backed mission to restore Black Sea shipping routes.