Türkiye working to bring regional energy resources at its gas center
Türkiye is working to assemble energy resources in the Eastern Mediterranean, Middle East, Black Sea and Central Asia at its gas trading center, said the country's energy and natural resources minister on Thursday.
"We are also planning to take new steps to strengthen our goals in this direction in the Southern Gas Corridor, which brings the Caspian and Balkan geographies together," Fatih Dönmez said in a video message broadcast at the "Century of Türkiye Summit" at the Turkuvaz Media Center.
The event was organized by Daily Sabah's parent company Turkuvaz Media Group.
Russia's President Vladimir Putin, last October, proposed setting up a gas hub in Türkiye following explosions that damaged Russia's Nord Stream gas pipelines under the Baltic Sea.
Putin suggested developing transshipment and exchange terminals for Russian gas, potentially making Türkiye a significant center for sales of Russian gas to third countries.
Erdoğan backed the idea and the two countries instructed authorities to work on a roadmap, which is expected to be announced soon.
Dönmez said many vital steps had been taken recently to make Türkiye a gas trading center, stressing they had visited 15 suppliers and consumer countries, including Azerbaijan, Algeria, Qatar and Nigeria.
"Negotiations are continuing with these countries on capacity increases," he noted.
"Our goal is clear. We want to become a center where many resource countries meet, multilateral and multi-contract purchases; and sales are made, gas is stored, distributed in the most appropriate way according to demand requirements; and where a reference price is formed. We have the physical infrastructure, a developed input-output system, gas exchange, balancing system and storage infrastructure to become a functional gas trading center," Dönmez added.
Istanbul gas summit
Dönmez is due to travel to Baku on Friday to attend the ninth meeting of the Southern Gas Corridor Advisory Board Meeting.
"Here, we will add another important link to our energy diplomacy that we have focused on recently. We will hold important negotiations with producer and consumer countries in our hinterland from Azerbaijan to Italy," he said.
Dönmez recalled that natural gas discovered in the Black Sea would be added to Türkiye's gas infrastructure.
Türkiye is set to start pumping the gas into the national grid by the end of March. It has gradually discovered about 710 billion cubic meters (bcm) of gas since August 2020, which is estimated to have a market value of $1 trillion.
"We are decisively continuing our efforts to bring the resources in the Eastern Mediterranean, Middle East, Black Sea and Central Asia regions together at the gas trading center in Türkiye," the minister said.
Dönmez also said Istanbul would host a natural gas summit on Feb. 14-15 to assemble gas supplying countries and Europe's consumer countries.
He said that they invited energy ministers from the Mediterranean, the Balkans, the Middle East, Central Asia, North Africa and the Far East, along with high-level representatives of the public and private sectors and representatives of international energy organizations to the summit.
Dönmez emphasized that the event would address the effects of global developments on the energy sector, current developments in the supply and demand balance, international prices and global supply security.
"Istanbul Gas Summit will be an important platform that will revive dialogue between countries, enable producer and consumer countries to exchange views and evaluate new collaboration opportunities," he noted.
Dönmez underlined that it was not possible for a single country to solve global crises, and cooperation was needed more than ever.
"With the summit, Istanbul will take its place on the world agenda as the new global center of energy," he added.
Buoyant startup ecosytem
Also addressing the event, Industry and Technology Minister Mustafa Varank said the government would continue efforts that would help boost Türkiye's startup ecosystem.
Varank stressed the ever-growing interest of foreign funds and investors in Türkiye's ventures, saying local businessmen were unaware of this and calling on them to lean more towards the domestic ecosystem.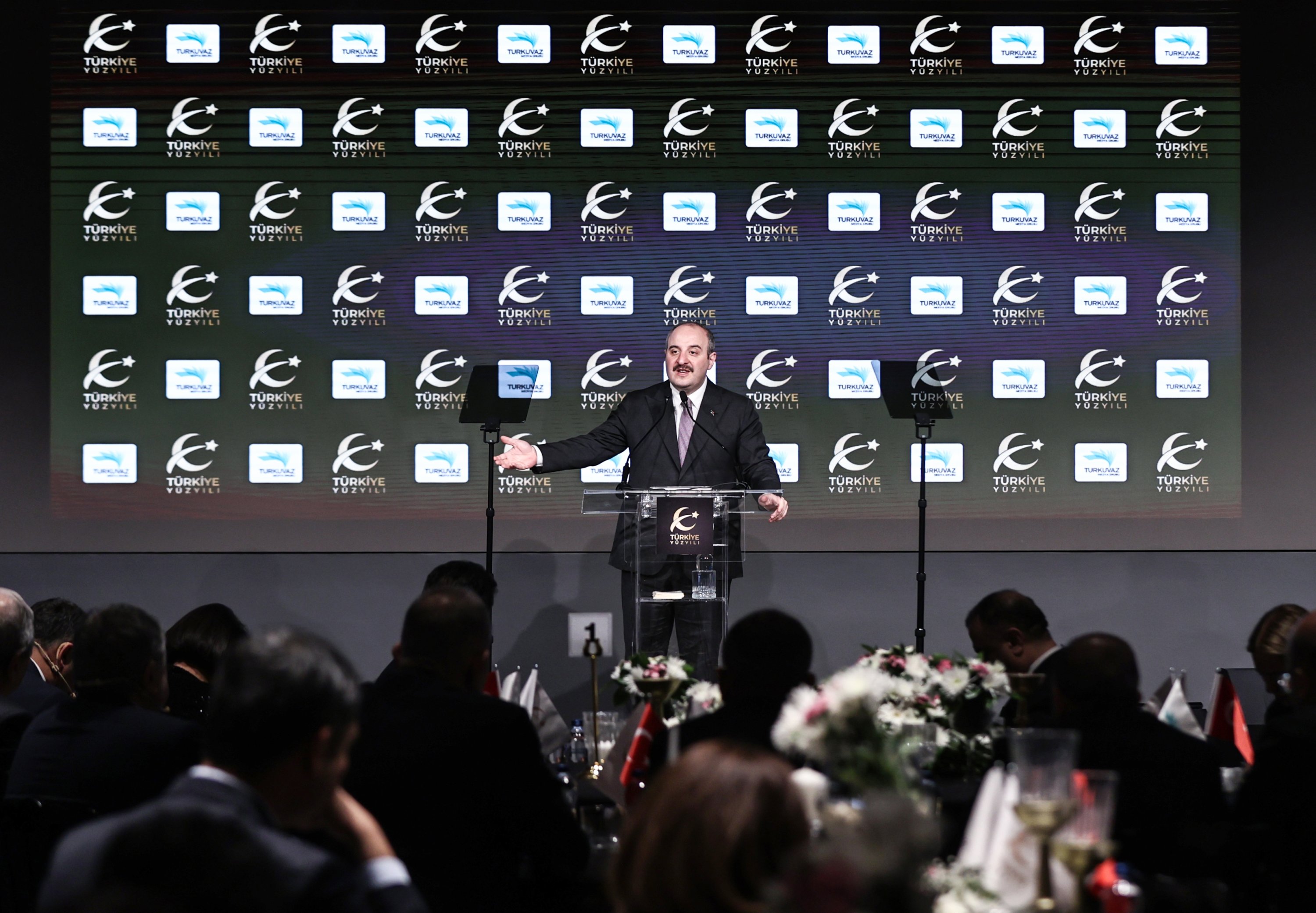 He said Turkish startups managed to attract around $1.7 billion in investment last year, up from $1.6 billion in 2021 and more than a tenfold increase compared to $154 million in 2020.
Varank particularly stressed the growing number of unicorns – startups valued at over $1 billion – Türkiye has gained over the recent years. "While there was no company reaching a valuation of $1 billion in Türkiye some four to five years ago, the number of our Turcorns has reached six in the recent period," he noted.
"Our goal is to be among the 20 most developed ecosystems in the world. We have also set a target of 5,000 angel investors, crowdfunding worth TL 2.5 billion , TL 5 billion for public support and $2.5 billion for venture capital investment, 15 Turcorns and 5 decacorns for 2025," he added.
Varank stressed Türkiye's capabilities to develop domestic technology in multiple fields, spearheaded by the defense industry.