Turkey Consumer Confidence | Everything You Need to Know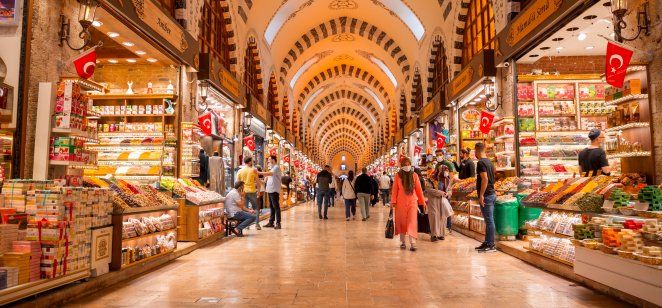 Turkey's consumer confidence has gradually improved in the third quarter of 2022, bouncing back from a weak second quarter. The recovery in consumer confidence came as Turkey's economic outlook grew bleaker, with the inflation rate hitting a two-decade high and rapid depreciation of the Turkish Lira (TRY).
US dollar to Turkish lira live chart
Does this mean President Recep Tayyip Erdoğan's much-criticised low interest rate policy bodes well for Turkey consumer confidence?
What is consumer confidence and how is it measured in Turkey?
Consumer confidence is an indicator of consumers' optimism or pessimism about current economic conditions and future economic prospects. It also assesses how they perceive their financial situation.
Private consumption accounts for roughly two-thirds of economic activity in most countries. This makes consumer confidence a critical economic indicator. Variations in household consumption can have a broader impact on businesses, such as retail stocks and commodities.
A country's monetary policy can be influenced by the rise and fall of a consumer confidence index. Falling confidence may force a central bank to slow the pace of interest rate hikes or cut the policy rate in order to stimulate spending. Central banks may also increase rates to reduce inflation risks if spending increases.
The Turkish Statistical Institute (Turkstat), calculates the monthly consumer confidence index which is part of a broader economic confidence index. 
The consumer confidence index is measured based on the following sub-indices:
Present financial situation of households compared to the last 12 months.

Financial situation expectations of households over the next 12 months.

General economic situations expectation over the next 12 months.

Assessment on money spend on durable goods over next 12 months compared to the past 12 months
The survey sample includes 4,884 households with people aged 16 and up who are chosen at random by the data entry programme. Results of the survey are evaluated in the range of 0-200. When the index hits above 100, it indicates an optimistic outlook. It suggests a pessimistic view when it falls below 100. 
What is your sentiment on USD/TRY?
Vote to see Traders sentiment!
Turkey consumer confidence: Historical context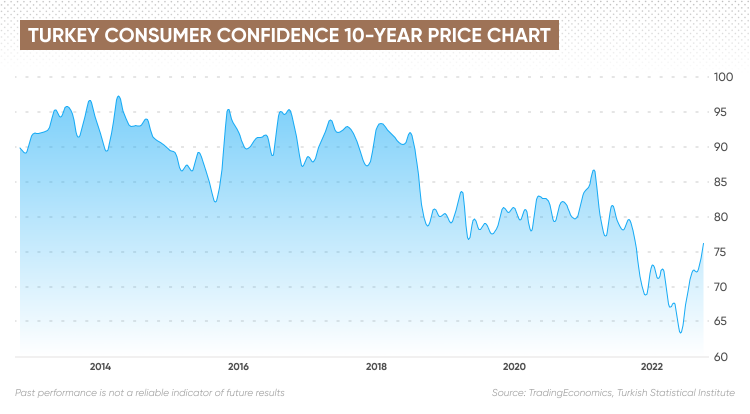 Consumer confidence in Turkey was low at below 60 points during the country's economic crisis in 2018 to 2019. The low numbers were triggered by, among other things, a substantial current account deficit and President Erdoğan's economic policy of promoting low central bank interest rates in the face of high inflation.
Turkey entered recession in the third quarter of 2018 followed by negative growth that lasted until the second quarter of 2019. During the economic crisis, the index's lowest point was in October 2019 when it stood 57 points. 
The Covid-19 pandemic in 2020 also weighed down on the country's consumer confidence until the first half of 2020. In April, the index fell to a new low of 54.9 points, according to Turkstat's Turkey consumer confidence data. In the Q2, the economy contracted 10.4%.
In Q3 2020, the country's consumer confidence gradually rebounded, crossing 82 points in September and hitting above pre-pandemic level at 86.7 points in March 2021 as the country's economy rebounded from the adverse impact of Covid-19's restrictions. In 2021, Turkey's annual gross domestic product (GDP) growth surged to 11.4%, from 1.9.% a year earlier. 
The index consistently dropped from below 80 points in March 2021 to 63.4 points in June 2022. The index recorded the biggest decline (-6.2%) among other sub-indices in the Economic Confidence Index in June 2022.
Surging inflation, fuelled by high commodity prices caused by the Ukraine war and the central bank tightening cycle, began to crimp growth and erode consumer spending.
Despite the country's deteriorating outlook and inflation at near 24-year high, the index bounced back to 70 points from July. 
By October, Turkey's consumer confidence reached 76.2 points. 
Factors driving consumer confidence in Turkey
While consumer confidence improved, it has remained below 100, suggesting underlying pessimism among Turkish consumers about the economy and their welfare. Trading Economics data showed the index reached an all-time high of 106.10 points in January 2004.  
Looking closer into October 2022 consumer confidence index, the sub-index that measures consumers' financial situation  advanced by 8.4%, compared to a 1.5% decline in the previous month, according to Turkstat.
Household expectations for their financial situation in the next 12 months climbed to 6.7%, after a 1.1% dip in September. 
Consumers were also more optimistic about the general economic prospects in the next 12 months, with the sub-index improving by 5.3% to 77.9 points, up from 74 in September. 
With a generally optimistic view of the economy, more respondents are considering buying durable goods in the next 12 months, which lifted the sub-index by 2.3% in October. 
Durable goods are those that have a longer lifespan and won't be consumed in one use, such as jewellery, cars, televisions and other consumer electronic goods.
However, as inflation stayed in the double-digits and economic growth was expected to cool, what is the main factor driving optimism?
Cheap rates fuel private consumption
Robust private or household consumption, which accounts for 55% to 56% of GDP, has been one of the growth engines for Turkey's economy since the Q4 2021, according to Turkstat. 
In the Q2 2022, household expenditure increased by 22.5%, accelerating from 15.1% in the Q4 2021. Muhammet Mercan, ING Group's Chief Economist Turkey, wrote on 31 August:
"The breakdown reveals a balanced outlook with strong support from both goods and services. This shows a continuation of robust household consumption driven by negative real rates, leading to fewer savings and supporting the consumption appetite."
Turkish President Erdoğan has been known for his unorthodox monetary policy. While other countries have been ramping up their tightening cycle, Turkey is going in the opposite direction by cutting its policy rate. In defiance of inflation, which hit a 24-year high in September.
The Central Bank of the Republic of Turkey (CBRT) has reduced lending rates by 850 basis points (bps) from March 2021 to October 2022. This brought the policy rate from 19% to 10.50%.
In June, Fitch Solutions forecast consumer spending in Turkey could post slower growth over 2022 at 4%, compared to an estimated 15% in 2021. However, they warned high inflation coupled with the rapid depreciation of the Turkish lira could weigh on consumer spending.
"These factors will continue to weigh down consumer and business sentiment in Turkey, although short-term relief is likely to be found in the country's tourism sector that remains robust."
The Turkish currency has rapidly weakened as the CBRT continued to lower rates and the US dollar has strengthened amid the US Federal Reserve's (Fed) hawkish rate hike. 
As of 3 November, the USD/TRY exchange rate had gained about 92% in one year.
Turkey consumer confidence and economic forecast
Trading Economics' Turkey consumer confidence forecast projected the index could stand at 84 points by the end of 2022. The index was expected at 95 in 2023, edging near the 100 threshold.
The overall economic outlook was bearish. Most analysts forecast that Turkey's economy could weaken until 2023 amid high inflation, which surged to 83.45% in September. 
According to J.P. Morgan, Turkey's economy could expand by an average of 4.5% in 2022, before slowing to 3.6% in 2023.
In September, Fitch Ratings raised its 2022 GDP forecast for Turkey to 5.2% from 4.5% in June, citing stronger growth in the second quarter. Turkey's economic growth was expected to slow to 2.9% in 2023 and remain stable in 2024.
The country's GDP could grow by 3% in 2023, down from an estimated 5% in 2022, according to ING Group's forecast on 10 October. In 2024, the economy was predicted to rebound at a 4% annual rate.
Trading Economics' econometric models projected Turkey's GDP growth could reach 5.10% by the end of 2022, before slowing to 3.2% in 2023. The service expected the economy to bounce to 4.5% growth in 2024.
Final thoughts
Consumer confidence in Turkey was expected to improve in the next 12 months, according to TradingEconomics, but it was unlikely to cross 100 thresholds. Analysts mentioned in this article also predicted the economy to slow as inflation dented growth and consumers spending. 
However, you should keep in mind that these predictions can be wrong.
If you want to learn more about a Turkey consumer confidence forecast, remember that there are numerous complex factors that influence consumer confidence. As a result, it is difficult for analysts to produce accurate long-term projections. Analysts' predictions can be wrong.
Always conduct your own research before trading or investing. Remember that past performance is not a reliable predictor of future results. And never trade with money that you cannot afford to lose.
FAQs
Is consumer confidence high or low in Turkey?

Turkey's consumer confidence index rose to 76.2 points in October, up from 63 in June. However, the index has remained below 100, reflecting consumers' engrained pessimism.
What is the current consumer confidence in Turkey?

Turkey's consumer confidence index stood at 76.2 points in October.
Is Turkey's consumer confidence rising?

Trading Economics forecast the country's consumer index to rise near the 100 threshold by 2023. However, bear in mind that analysts' projections can be inaccurate. You should always do your own research before making investment decisions. Remember to never invest more money than you can afford to lose.
Related reading