Russia denies Putin planning Turkey visit as Erdogan resists NATO expansion
Reports that Russian president Vladimir Putin was set to visit his Turkish counterpart in Ankara have been shot down by Kremlin press secretary Dmitry Peskov.
Rumors that the two leaders were set to meet "soon" have been circulating since early May, when Turkey's President Recep Tayyip Erdogan told reporters that he was going to meet Putin "in the coming days."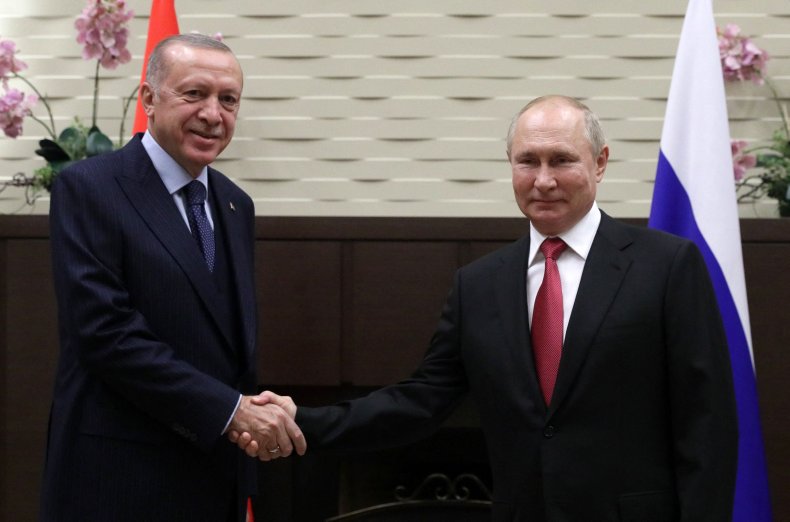 Over the last half-decade, the two leaders have forged a sometimes uneasy alliance that was tightened by Putin's unequivocal support to Erdogan after the failed coup of July 2016, which threatened to dethrone the Turkish president. Erdogan has now been in power for almost two decades.
The two countries have often found themselves on different sides of international conflicts in recent years, as in Syria and Libya. However, Putin and Erdogan have cooperated and tightened their alliance, keeping tensions and rivalries in check.
Things appear to have changed after the invasion of Ukraine, which Turkey unequivocally condemned, together with most UN countries.
It was not the first time Turkey sided with Ukraine over Russia. In 2014, Ankara did not recognize the Russian annexation of Crimea, which it said was a violation of international law.
But Erdogan's position toward Russia as the war in Ukraine unfolds remains ambiguous.
While Ankara has deemed the invasion of Ukraine as "unacceptable," the country has also refused to join the UN in its sanctions against Russia.
Turkey's interest would appear to be avoiding a broader expansion of the conflict in Ukraine, a country Ankara believes should remain independent, while at the same time keeping its important financial and economic ties with Moscow.
Since the beginning of the war, Erdogan has tried to play a mediating role between Russia and Ukraine. On March 29, he organized a meeting between Russian and Ukrainian delegations in Istanbul, which was at the time considered a breakthrough in the attempts at ending the war.
At the end of April, Erdogan was still trying to organize peace talks between Ukraine's President Volodymyr Zelensky and Putin.
But tipping the scale towards Russia this week, Erdogan's said Turkey will veto Sweden's and Finland's membership bids to NATO.
On May 16, Turkey said its refusal to approve Finland and Sweden's membership is linked to Sweden's history of hosting members of the Kurdish militant groups and sanctions that Stockholm has put in place against Ankara since 2019 over Turkey's military involvement in Syria.
Whatever the reason, Turkey's veto is bound to please the Kremlin, which has expressed overt hostility toward the idea of Finland and Sweden joining NATO.
The Turkish president's objection represents a serious obstacle to the two Nordic countries joining the alliance, as any new member needs to be approved by all 30 NATO countries.
Newsweek contacted the Russian Ministry of Foreign Affairs for comment.