Ex-NBA star Enes Kanter Freedom has bounty on his head in Turkey
Article content
Former Boston Celtics centre Enes Kanter Freedom is a wanted man in Turkey.
Article content
And there's a $500,000 bounty for his head too.
Article content
According to the New York Post, the outspoken Turkish-turned-American basketball player's name is on his home country's most-wanted terrorists list this year, with President Recep Tayyip Erdogan's regime offering up to 10 million Turkish lira (about US$500,000) for info that would lead to the arrest of Freedom, who they say they found last week.
In an interview with the Post, the 30-year-old Freedom said things are now dangerous because before the bounty, Turkish intelligence were only looking for people on the most-wanted list, "but now everyone is after them because they want the money."
Freedom claims he's also "waiting for the right time" to sue the National Basketball Association because he believes the organization has blackballed him for his protests against China.
Article content
The basketball star isn't shy when it comes to speaking out on things he opposes. During his NBA tenure, Freedom was open about his dislike of Turkey's human rights abuse, calling Erdogan a "dictator" and "Hitler of our century" and stepping on a photo of the president.
Freedom told the Post the Turkish government is "really sick of" whenever he speaks up and they "are doing whatever they can to shut me up."
Turkey's most wanted list features the names of terrorists, journalists and those like Freedom who are critical of the Erdogan government.
Freedom said he's now "being protected 24/7" after increasing his personal security due to the bounty. The Washington, DC, resident said he's also in regular contact with law enforcement and FBI.
Besides being critical of Turkey, Freedom has also been outspoken about the Chinese Communist Party, and chirped shoe giant Nike for its manufacturing deals in the Asian country.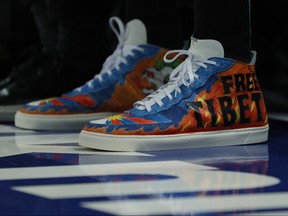 While on court, Freedom was known to wear sneakers with "Free Tibet, "No Beijing 2022" and "Free Uyghur" on them, the Post reported. At the time, the NBA reportedly pressured Freedom to take off his shoes and stay quiet.
Freedom last played in the NBA as a member of the Celtics, before being traded to the Houston Rockets, who put him on waivers.